This is Boca do Lobo' decor inspiration time with an out of the box article called 10 Items that will compose a colourful summer home decor. Are you ready for this?
Miranda is a fanciful and gold-colored pineapple table lamp. Formed in the shape of a classic pineapple, long a classic symbol in decorative arts and architecture, it also means welcome and hospitality. Finished in gold plated brass, it is named after Carmen Miranda, as she used to wear colorful and tropical fruits on her head. Unique shape and beautiful look.
Coolors Collection by Boca do Lobo includes some of the most unique and stunningly beautiful furnishings you have ever seen. That's the case of Shield, a modern yellow side table for a contemporary living room like yours. Ideal for a sophisticated home decoration, this table's classical silhouette and flowing details will surely remind you of the Atlantic Ocean. Shield, made from mahogany and covered entirely with silver leaf, can also be transformed into an original coffee table or tea table, according to your favorite tastes. It is supported in a column that ends in three delicate feet, giving way to distinctive, decorative legs inspired by antique furniture. And a high gloss finish reflects the highly polished surfaces colored over silver leaf in a choice of emerald, lapis, amethyst or citrine.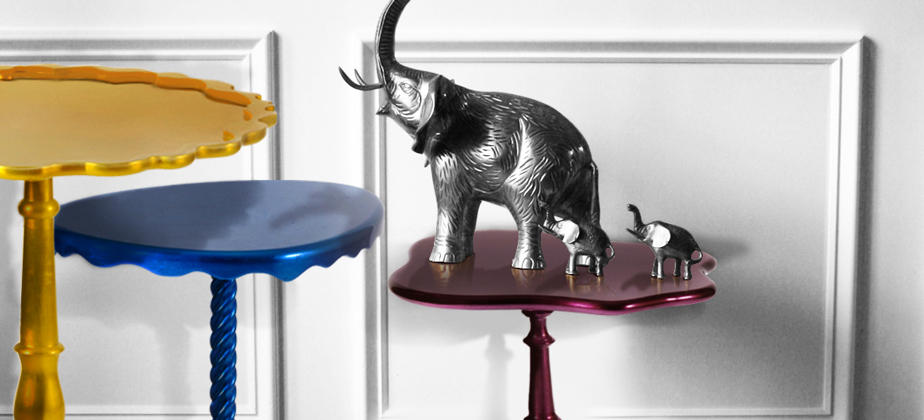 3. Saari Sofa
SAARI lounge sofa was made to embody the essence of the Northern Lights, also known as Aurora Borealis. Upholstered in velvet and with a vintage brass base, SAARI lounge sofa will awake feelings, sensations and thoughts a long time ago and bring comfort and elegance to every living room set that includes this modern contemporary furniture piece.
4. S | Graphic Collection
Sexy, Slender, Sleek, Sly, Sweet, is what this letter is all about. The neon lit pink core creates a serene and lovely mood in a dark interior. The purple violet color is mixed with the polished stainless steel to create a prodigious contrast.
With a height of 1 meter, the stylish lamp (and here we go again with the S!) will give to any project a unique touch. You can also use this lamp outside. Put it on the ground or on the wall: both will look perfect.
Boca do Lobo makes interior spaces come alive. That's why we have recreated the elegant Eden Table, made with superior craftsmanship. The present version is made from melted aluminum that can be finished in copper leaf, gold leaf or silver leaf. Inspired by current trends and made with the finest materials, our exclusive furniture creates an atmosphere of irresistible comfort, gracious hospitality and impeccable taste. We provide a set of two center tables with different sizes. If you decide to use them together, they are ideal for a big sofa (3 to 4 people). If you prefer it, you can use it separately and in this case, you can place it between two elegant armchairs. Eden is perfect for modern living rooms and spacious home offices.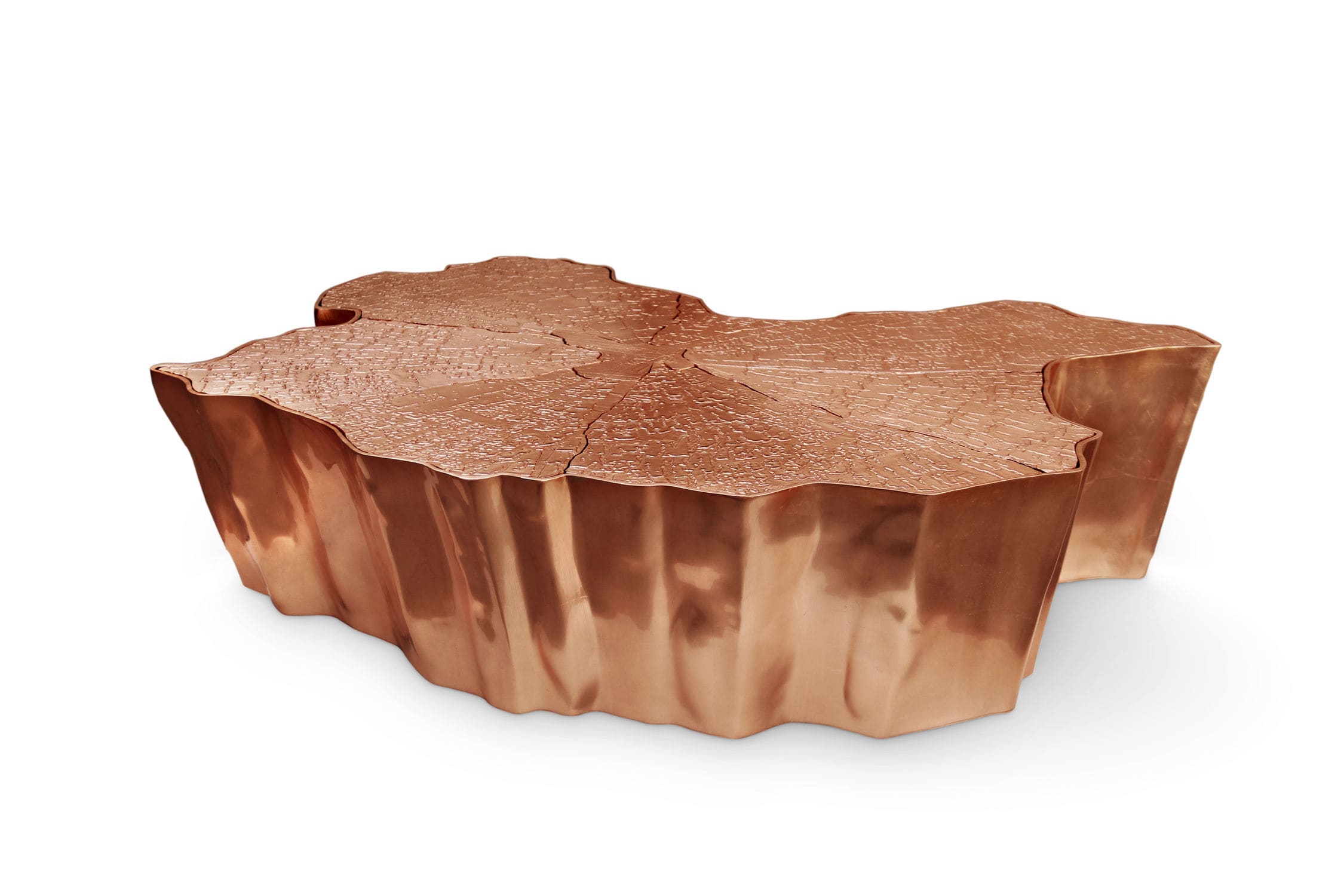 See more: 10 Contemporary Lighting Pieces for Your Living Room
Pixel is an effort to honor the union between design and craftsmanship. The 1088 triangles that complete this piece carry the dedication and art of those who built it – with a diversity of finishes never seen before. The polished brass base gives Pixel a unique personality, a strong and at the same time sophisticated character.
As part of its special service, Boca do Lobo enables customers to personalize their Soho sideboard into countless variations and features. Be inspired by all the pieces of our collections. Adjust the dimensions to suit your needs and create a one-of-a-kind bookcase or sideboard.
The Fortuna Dining Table is a shimmering statement piece that unites Boca do Lobo's one of a kind design aesthetic and passion for Gold. Representing the essence of empowerment, sophistication, mystics, and enticement, the Fortuna features a one of a kind design, with a unique table surface texture and incredible finish.
Marie Thérèse, the eldest daughter of Marie Antoinette and Louis XVI, the last King of France, lived a life far from monarchal. Represented through beautiful lines and special elements, the Marie Therese brings a breath of curves embody the quality and integrity of an true art piece.
10. Batak Armchair
The BATAK people are one of the most ancient and most well-documented tribes in the world. The BATAKs have a very rich culture, immerse in traditions. BATAK is also a velvet armchair. A modern furniture piece that covers the culture of BATAK and embraces their ancestral beliefs, bringing a feeling of fellowship to any ambience. BATAK velvet armchair perfectly recreates the mid-century modern furniture style.
Boca do Lobo was born with the mission of inspire everyone around. Keep yourself connected and get to know much more about our vision.
You may also like: 10 Unique Modern Chairs Worthy of Attention