Mary Mcdonald is an award-winning, internationally published Los Angeles-based interior designer. She is also one of the stars of Bravo's TV show "Million Dollar Decorators" and is consistently ranked as one of the House Beautiful Top 100 Designers. Mary is the author of The Allure of Style by Rizzoli and has been recognized as one of the Top 25 Designers by Veranda Magazine.
FRENCH-STYLE MODERN RESIDENCE
Mary McDonald is synonymous with style and was, of course, the first choice of Blandino and Johnson – two beauty gurus – when it came to decorating their newest and luxury California coastal residence.
The great room at this French manor house was adjusted for modern coastal living. And Jerrod Blandino's closet makes us feel in a very tranquil oasis full of elegance. For both spaces, white is the predominant color with a perfect contrast of darker colors and gold notes.
Mary McDonald's irreverence is pure elegance. Just look at the library! The interior designer evokes a more luxurious era with rich colors and velvet fabrics, especially reminiscent of a French hotel. One of the most vibrant rooms in the residence!
Following the fearless use of vivid colors, we reach the offices of Blandino and Johnson. Both lusty and refined, but with different choices of the color scale. In Jerrod Blandino's office, modern pastels meet authentic French elements in an office fit for royalty. Johnson's workspace offers a new vision for an old-fashioned library with bold teal tones.
An eclectic, modern classic, and contemporary masterpiece. This stunning residence accommodates various styles.
NEUTRAL & WHIMSICAL
Or, dramatic vs. cheerful? The master bathroom appears in stark contrast to the guest powder room. The first underscores the opulence of this French-style villa, bursting with luxury. For the second, you could say that Mary was certainly dreaming of pink when she designed this vibrant yet sumptuous guest powder room adjacent to the entry.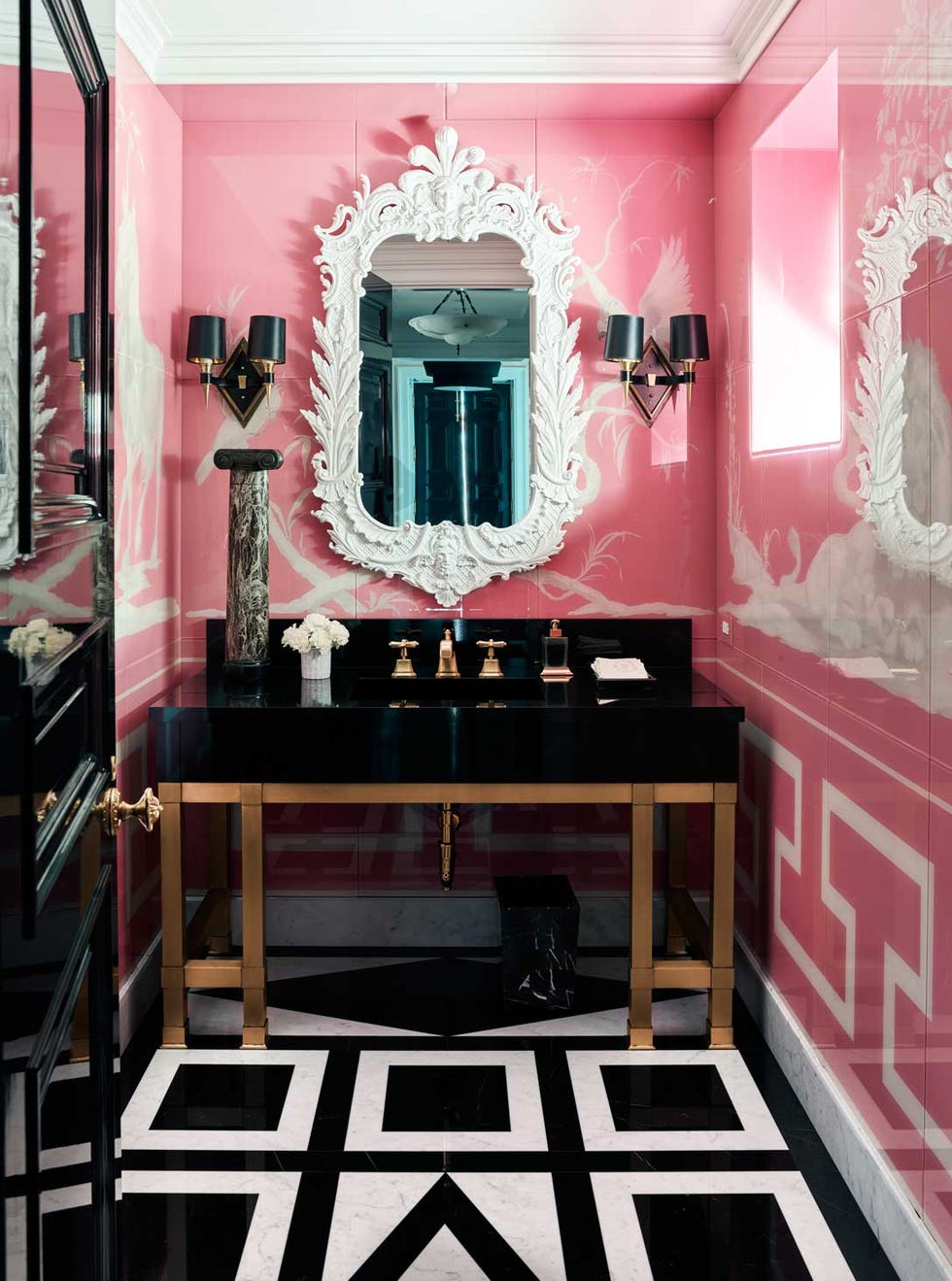 Back to basics, the master bedroom highlights Mary McDonald's refined and sophisticated streak and also reflects the owners' sense of style. In the guest bedroom, the garden beyond the French doors is reflected in a floral wall covering.
Mary McDonald is as sophisticated as she is exuberant, but always elegant in everything. We've seen both styles before and definitely can't pick just one as our favorite. She is one of today's most respected tastemakers, known for her exuberant and fearless approach to design, which is reflected in her glamorous and timeless masterpieces.
Which Room Did You Love The Most?