Good modern chandeliers make you feel comfier, and they can make every environment cosier by adding an attractive look to your space. Inspiration and Ideas brings to you 25 modern chandeliers that will surely make a striking difference in any home decor.
Halcyon Large Chandelier by Kelly Wearstler
Composed of hand-selected solid natural quartz stones and a sculptural brass frame, this architectural and raw fixture channels Kelly's trademark affinity for clever mixology and natural materiality.
Medusa By Roche Bobois
Designed by Carlo Zerbaro, this dramatic suspension lamp is a contemporary chandelier with curved brass arms that resemble a jellyfish.
Hanna By Delightfull
Hanna modern chandelier is a breathtaking lighting design that is made in brass and aluminium with gold plated and white matte shades. Pair it with modern or contemporary decor as a chic accent piece. 
Bell Light By Sebastian Herkner
It's a luminaire inspired by spotlights and reflectors made by ClassiCon. The changeable lampshades are made of copper, steel, or textile and influence the atmosphere, temperature, and color of light of a lamp.
Triptico By Boca do Lobo
Drawing inspiration from the industrial visual appeal, Triptico is a versatile suspension lamp that balances the finest craftsmanship with innovative design.
See Also: 10 Best Modern Dining Chairs For Your Astonishing Home Design
Clover By India Mahdavi
Clover is a chandelier formed of carefully hand crafted semi-opaque Pulegoso glass balls and cast glass petals. Inspired by Mahdavi's obsession with flowers, the glass medium perfectly captures their fragility, whilst retaining Mahdavi's iconic style.
Plant Chandelier by MOOOI
Founding inspiration in nature's structures while indulging in the poetry of its beauty, the Plant Chandelier brings the right amount of elegance and sophistication to a modern dining room.
Matheny V Chandelier by Delightfull
A true statement of luxury, this chandelier offers a unique feeling to a room, stealing the spotlight! Matheny V Chandelier by Luxxu might just be the statement element your home is missing.
Zenith Long By Philippe Starck
The iconic Baccarat chandelier par excellence, the Zenith collection showcases the meticulous finery of Baccarat's craftsmanship.
Guggenheim Chandelier by Luxxu
This luxury chandelier has its name after the Guggenheim Museum, considered to be the "temple of the spirit". The Guggenheim chandelier is a beautiful and exquisite piece.
Reha Suspension by Fendi Casa
Two series of suspension lamps with a strong decorative impact. The design is obtained by means of a series of curved tubular crystal glasses, joined circularly by a steel structure with gunmetal finish.
Crescent By Lee Broom
The Mini Crescent Multi Light Pendant is a miniature chandelier version of the popular Crescent Light.
Shard Chandelier by Luxxu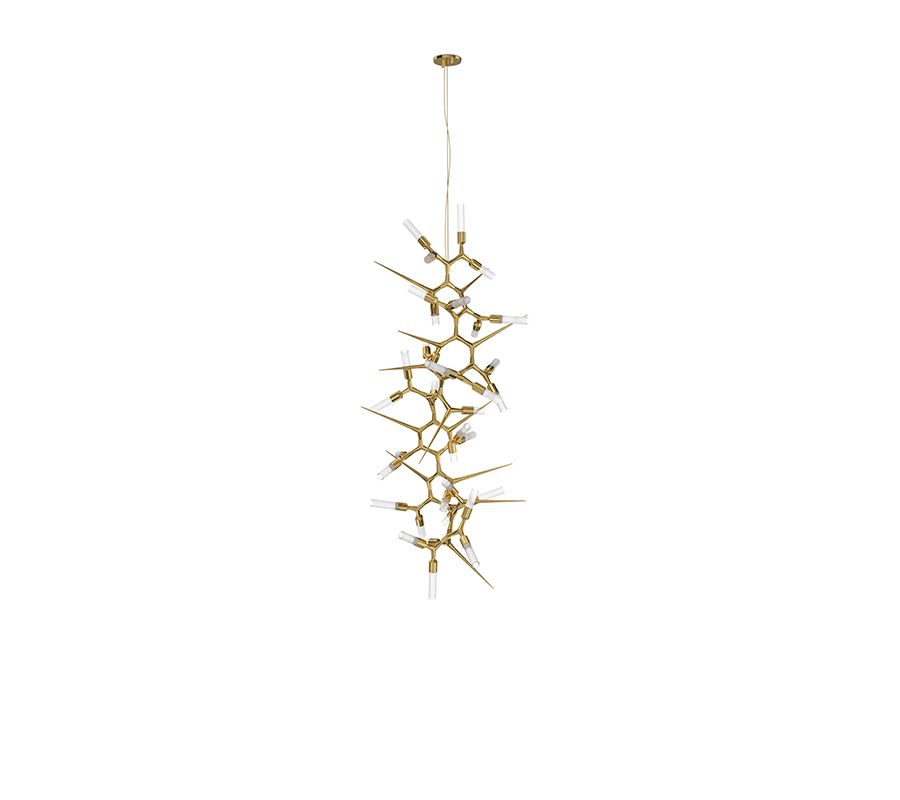 Shard Chandelier is a powerful piece that will transform any room given it the right amount of luxury and glam! This beauty is inspired by the showstopping Shard London Bridge and seems more like a work of art. Made from gold-plated brass and crystal glass, ready to upgrade your designs.
Newton By Boca do Lobo
The Newton luxury chandelier is a unique handcrafted luxury design piece that reflects the best of Portuguese metalwork, authenticating Boca do Lobo's core values and ethos.
Monkey By Marcantonio
Irreverent and mischievous, the three little monkeys designed by Marcantonio took over an entire chandelier. Unconventional in its white splendor, the Monkey luxury chandelier is simply perfect for rooms out of the ordinary.
See Also: A Multi-Millionaire Luxury Bathroom With A Parisian Aesthetic
Libretto Lamp by Roche Bobois
This luxury chandelier is composed of a multitude of ribbed glass tubes, that diffuse the light emitted by the integrated lighting. Every little detail turns Libretto Lamp into an elegant and timeless piece.
Empire Chandelier by Luxxu
The Empire Chandelier is inspired by the outstanding architecture of The Empire State Building. It's a masterpiece with an extravagant shape, and the power to change every space into a stunning and exclusive scenario.
L'Chandelier By Boca do Lobo
L'Chandelier is a dreamy, elegant, and luxurious lightning piece, incomparable and impressive as the romantic Champs-Élysées avenue. One of the most amazing modern chandeliers that utterly stand out in the middle of an imposing dining room.
Melt Pendant Light by Tom Dixon
Melt emits an attractive light, creating a mesmerizing and extraordinary atmosphere. Tom Dixon designed a beautiful piece that can add an abstract sense of mystery to a modern home.
Supernova By Boca do Lobo
The suspended brass particles of the Supernova Chandelier luxury lighting will offer you a timeless, brightest, and magnificent setting.
Plane Drop By Tom Dixon
A brass-plated statement drop chandelier comprising of 15 double-layered white glass spheres distributed seven rotating planes. In love with these modern chandeliers that truly elevate product design? We have a few more to show you!
Plant By Moooi
The Plant Chandelier, designed by Kranen/Gille, captivates the architectural uniformity in nature's design with its branches that grow and spread in definite directions. 
Wax Chandelier by Luxxu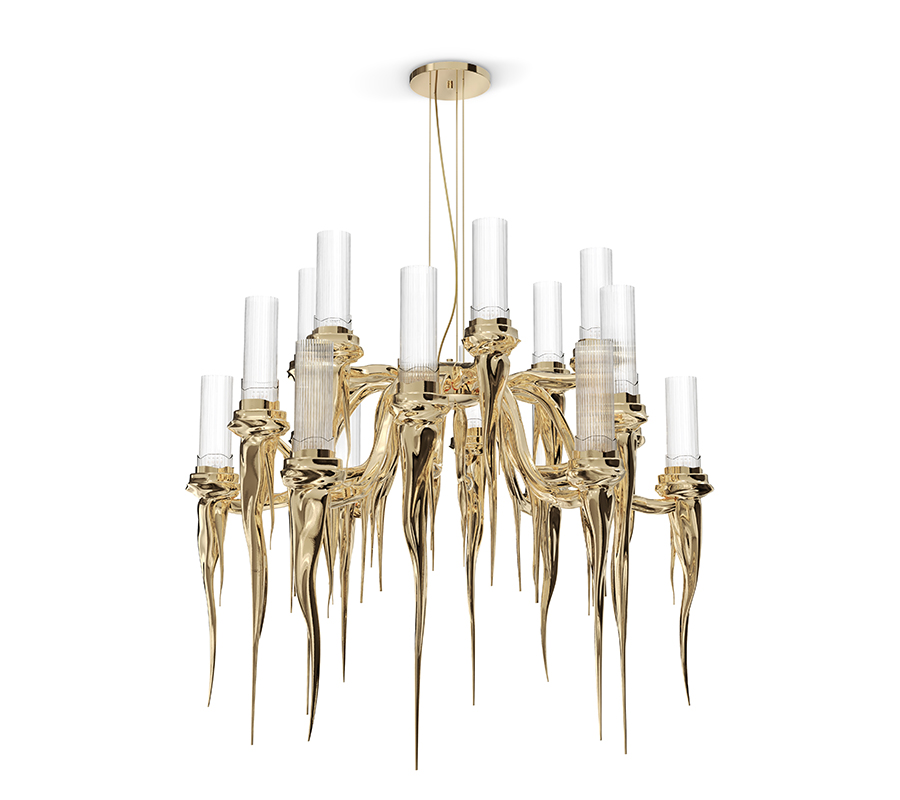 Allow Wax Chandelier to show how they have the perfect blend between old and modern classic luxury feel and you will not be disappointed.
Brubeck Round by Delightfull
Inspired by one of the foremost exponents of cool jazz: Dave Brubeck, this luxury chandelier represents the sophistication and finesse of the American jazz pianist, displaying a very luxurious feeling, with its unique and sculptural shape.
Lumière By Boca do Lobo
Born from the rich tradition of iron forging and skilled goldsmiths, this majestic chandelier is a soulful piece with classic distinction for outstanding private residences to the greatest contract settings.
Stay with us to discover more modern chandeliers
See Also: Spark Your Inspiration! Modern Lighting For Your Home